New and Notable 2020 Conference Sessions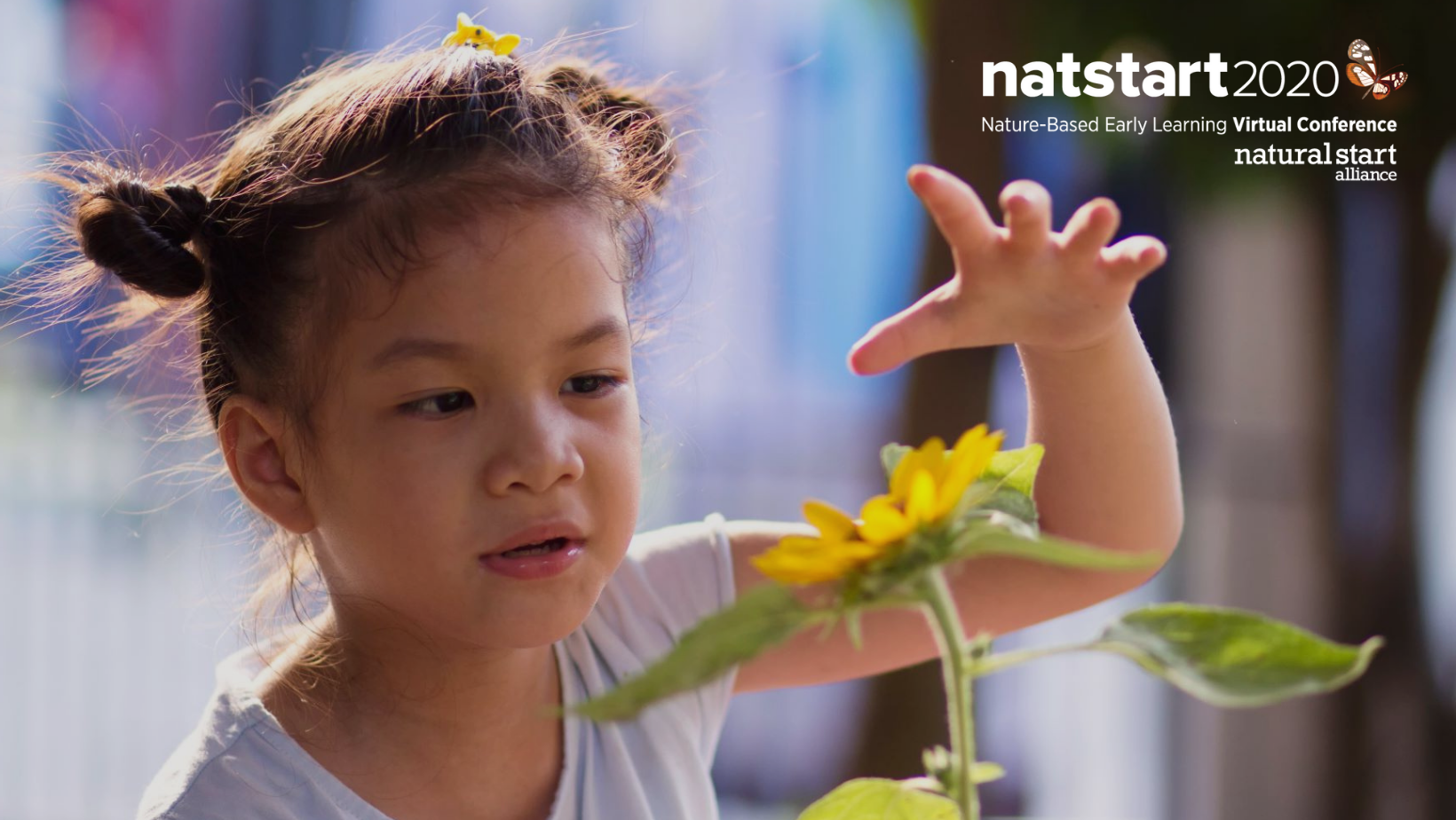 One of the biggest benefits of a virtual conference is the ability to return to sessions time and again, wherever and whenever you want. Using feedback from conference attendees, we pulled together a list of conference highlights in vital themes like equity and inclusion, safety, mental health, and STEAM. We also added new sessions that we know you'll love, generously shared with us from the NAAEE Virtual Conference. 
These sessions have passed the test of nature-based early childhood professionals from around the world, so dive in and take advantage of this high-quality professional development, available at the click of a button. 
You must be logged in to access these sessions.
Just Added! 
Did you know that Natural Start's parent organization, the North American Association for Environmental Education (NAAEE) also had a virtual conference in 2020? We mined their list for the best early childhood sessions and added them to our platform, making them accessible to anyone registered for NatStart2020!
Gendered Matters in Nature-Based Education  (Poster)
Presenters: Abigail Decker and Scott Morrison, Elon University
Nature Play for Desert Dwellers: Designing Learning Spaces Amid Cactus  
Presenter: Melissa Mundt, Garden PlaySpace
Involving Important Adults in Early Childhood Environmental Education Programs  
Presenter: Jessica Blaire, Wildlife Conservation Society
Spiritual Development, Nature, and Play: Pedagogy for a Healthier World  
Presenter: Deborah Schein, Growing Wonder
Teaching Empathy Through Nature: Creating Social and Emotional Connections  
Presenters: Anne Henderson, Christopher Hill, Ashley Schorr, and Josephine Story, Pine Jog Environmental Education Center
Incorporating Yoga and Mindfulness in EE Programs for All Ages  
Presenter: Alison Zak, The Clifton Institute 
---
Justice, Equity, Inclusion, and Anti-Bias
Equity and diversity were central themes at our 2020 conference, starting with our keynote address and weaving through discussions, featured sessions, and sessions offered on-demand. Browse top-rated equity-focused sessions below. 
Keynote: Diversifying Your Outdoor Experience 
Presenters: Michelle Martin and J. Elizabeth Mills
George Washington Carver and the Nature Study Movement and Its Relevance Today
Presenter: Jim Embry
Starting the Conversation: Anti-Racist Early Childhood Education in the Outdoors
Presenter: Lindie Keaton
Plenary: Outdoor Preschool for All 
Presenters: Kit Harrington, Lynny Brown, Megan Patterson, Aliza Yair
Equity and Inclusion in Outdoor Learning with Diverse Communities 
Presenter:  Jill Shashaty
Planting Seeds of Social Change Through Nature-Based Learning 
Presenter: Cheryl Ryan
Here's to You! Puppet Plays, Nature, and Anti-Bias Education  
Presenters: Julia Robinson, Ashley Kramer, Margaret (Tad) Liechty
---
Mental Health & Mindfulness
While navigating uncertain times, the mental health of staff and students has become increasingly important. The following sessions are highly regarded and focus on mindfulness and mental health.
A Compassionate Approach to Conflict Resolution in Nature Education
Presenters: Takako Kono and Yinan Lu
Therapeutic Benefits of Nature 
Presenter: Jenny Hanlon
Presenter: Rebecca Maglischo
Bees Attacking, Mouse Nest Finds, Snakes Inside: Undergrads' Fears Conquered Through Mindfulness 
Presenters: Katie Pollock, Laura Morris
Improving Program Quality Through Mindfulness  (Download only)
Presenter: Ellen Hamilton-Ford
---
Safety
Though there is no replacement for in-person safety training, these sessions cover important topics related to risk-taking and safety policies and lay the foundation for additional training. 
Safety and Healthy Risk-Taking in Nature-Based Education: Part 1
Presenters: Amy Butler, Anne M Stires
Safety and Healthy Risk-Taking in Nature-Based Education: Part 2
Presenters: Amy Butler, Anne M Stires
Empowering Children Through Risky Play
Presenter: Heidi Reed
Fire Pit Safety for Outdoor Early Educators
Presenters: Lee and Jason Hamzy 
Resilience Planning: A Story of How We Prepared for the Worst So We Can Enjoy the Rest 
Presenter: Rebecca P Hackett-Levy
Risk and the Image of the Child
Presenters: Amanda Crawford, Christina Davis
---
STEAM
These sessions provide guidance on how to incorporate science, technology, engineering, art, and math concepts in early childhood outdoor education. 
Animal Architects: Using Nature's Builders to Teach STEAM 
Presenter: Julie Travaglini
"Scientists Don't Say 'Ew!'": Helping Young Children Explore Plants, Animals, and Insects That Are Overlooked, Undesirable, or Otherwise "Gross" 
Presenter: Leigh Ann Fish
Storytelling, STEM, and Simple Machines in Outdoor Classrooms 
Presenter: Carla Gull
Nature Art: Awaken, Nourish and Create Outdoors
Presenter: Victoria Hackett