Workshops
Workshops allow conference attendees to spend extended time diving into specific topics with experts and peers. This year, we're offering one workshop in person and one online. In-person attendees also have the option to register for the online workshop. If you can't attend the online workshop live, it will be recorded and available on-demand until July 2023.
Online: Embracing Identities: A Reflective-Practice Approach to Anti-Bias Education in Early Childhood — $25
Wednesday, July 27, 12:00 pm - 3:30 pm ET (Workshop will be recorded and available on-demand after the live event.)
This workshop will explore ways to promote children's explorations of and discussions about identity. Through a three-part approach that is grounded in identifying and understanding identities and intersectionality—looking at the ways that children explore identities using the help of materials, and unpacking the ways that peer relationships and play are both influenced by and ways that children process their identities—we develop a framework that includes practical tips for those seeking to organically deepen this important practice with intention.
Meet the Presenter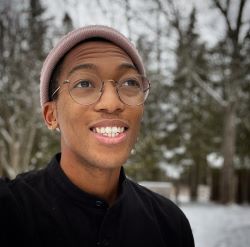 Ron Grady (he/him)
Ron Grady is an early childhood educator with a passion for unpacking the lived experiences of children through child-centered and constructivist methodologies, art, nature, and play. He has worked with children and families for nearly a decade in both research and applied contexts and is currently a teacher at NOLA Nature School in New Orleans. Ron's writing and research have appeared in various early childhood publications, and he serves as a consulting editor for Young Children. Ron holds a Master's in Early Childhood from Erikson, a Bachelor's in Psychology from Stanford, and will be starting his doctoral studies in Education at Harvard this fall.
---
In-Person: Managing without Losing Sight of the Mission (or Your Mind!): A Workshop for Nature-Based Administrators— $125
Wednesday, July 27, 9:00 am - 4:00 pm ET
Price includes transportation to Cincinnati Nature Center, lunch, a tour of Cincinnati Nature Center and Preschool, and a copy of the Nature-Based Preschool Professional Practice Guidebook
The goal of this workshop is to help you address the many unique challenges you face as a nature-based administrator. This one-day workshop will not only provide tangible solutions, but also help you build a network of fellow administrators. Using the Nature-Based Preschool Professional Practice Guidebook as a foundation for discussion, we'll address the following topics in this workshop:
Policies & Procedures — Nature-based programs require many, many policies and procedures—from enrollment to safety outside the fenced play area. Yet, many administrators find themselves asking questions about what policies should be in place and how to write appropriate policies that adhere to licensing regulations. We'll dive into the answers to these questions and more!
Supporting Staff —The nature-based approach is unique and thus requires a unique set of skills on the part of the staff. Finding and retaining qualified staff is a vital part of program administration. We'll discuss staffing-related challenges such as hiring qualified staff; identifying professional development needs unique to nature-based education; and effective implementation of that professional development.
Ongoing Program Evaluation & Improvement — Many administrators find themselves asking, "How do I stay true to the nature-based approach while rating high on my state's Quality Rating Improvement System?" We'll address this question and others related to ongoing program improvement.
The day will also include a tour of the Cincinnati Nature Center and its preschool. The workshop itself will be a mix of presentations and small-group interaction and problem-solving. All of these activities are designed to ensure you leave the workshop with tangible solutions as well as nuggets for deeper thinking. 
Meet the Presenter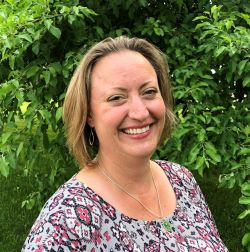 Dr. Rachel A. Larimore (she/her)
Dr. Rachel A. Larimore is an educator, consultant, speaker, researcher, and author. Her work focuses on the intentional integration of nature to support young children's holistic development by learning with nature to expand their worlds and live rich, full lives. She has written three books including Establishing a Nature-Based Preschool and Preschool Beyond Walls: Blending Early Childhood Education and Nature-Based Learning. Rachel is the founder and Chief Visionary of Samara Early Learning, an organization focused on helping early childhood educators start nature-based schools or add nature-based approaches into their existing program. Prior to founding Samara, she spent more than a decade starting and directing one of the first nature-based preschools in the United States.